No Vet Left Behind
Enabled Enterprise believes that for it to be successful it must provide our veterans with the tools necessary for their success. In furtherance of this principle, the company will provide the necessary resources for success including training, mentoring, emotional and business support.
There are many great companies hiring and training veterans for 9-5 jobs. However, for a multitude of reasons, unfortunately 50% of veterans leave those jobs within one year.
EE's primary mission is to provide opportunity that fits the emotional makeup of many of the 250,000 unemployed vets between 25 and 44 years.
Veteran Entrepreneurs
After World War II, forty-nine percent of veterans went on to start and own their own businesses, according to the Kauffman Foundation.  Today, twenty-five percent of Post-9/11 veterans dream of starting and owning their own business, yet only six percent will.   200,000 active duty military will come off duty this year and for the next five years.  Based on statistics only six percent will fulfill their dream.
The paradigm has to change, it's not working. Our service members and veterans coming home are not looking for handouts, low level jobs, training for opportunities that don't exist and they sure are not interested in serving coffee. The problem is, they don't have $100,000 in the bank, and they generally don't have business training. What they do have is commitment, the willingness to learn and work with a team and a desire to be independent. Foremost, they just want a chance at the American dream.
EE Business Opportunity VS. Franchise or Start-Up
Franchise or Start-up Requirements
Net worth – $100,000
Cost to open typical franchise or new business – $25,000- $250,000
Inventory and/or employees
Good credit
Enabled Enterprises Requirements
Net worth – Not required
Cash required – $1,000 Refundable
Inventory – Less than $500
Commitment and willing to learn
Income Potential – Unlimited
Training & Support
Veteran Entrepreneur Training
Through it's V.E.T. program, EE provides veterans/spouses the tools to be successful entrepreneurs. EE, as part of our  mission, will provide comprehensive training to Veteran entrepreneurs is setting up their own business, product knowledge, sales and marketing.
In order to support our veterans efforts EE will undertake PR, marketing and advertising programs to promote products and create business for our veterans.
Supporting Veteran Businesses
EE will support, promote and distribute products and services of other veteran owned businesses. EE will work with originations like The Bunker and others that are promoting veteran owned businesses.
Veteran Business Incubator
Enabled Enterprises plans to develop its version of "Shark Tank" as a veteran's business incubator, to be called The InVETSment Corps.  Veterans will submit their business plans, ideas or inventions for review by a panel.
Veterans will submit their business plans, ideas or inventions for review by a panel. The accepted submissions will be presented for the consideration by a group of renowned investors. A large group of finalists will appear live to present their concepts to a panel of these investors over several days. These investors will commit their timeframe and financial support to mentor these veterans and fund worthwhile projects.
This concept is similar to the popular television series, Shark Tank. However, unlike the show, EE's InVETSment Corps will help participating vets with constructive business advice, mentoring and support. The dream is to have investor panels across the country. Enabled Enterprises may develop this concept into a reality television series. The project has received significant interest from major cable networks.
Working with the Veteran's Administration
Enabled Enterprises has developed many products and services that have significant applications for military and VA campuses.  These include solar electric vehicles, electric bicycles, supplements, and the Freedom Trax.
EE works with VA programs, like Vocational Rehab and Conditional Work Therapy, that prepare veterans for jobs and employment.  EE will train these veterans to assemble electric vehicles and bicycles.  EE will thus be employing and training veterans to perform VA projects as part of its programs.
Emotional Support
Shared Mission
Enabled Enterprise believes that for it to be successful it must provide our veterans with all the tools necessary for their success. In furtherance of this principle, the company will provide the necessary resources for success. Including emotional support. Read more concerning lightning link casino.  As an example, EE will host bi-weekly teleconferences.  There will be an opportunity to share information and ideas as well as emotional challenges with their fellow vets.  A counselor with military experience will be available as part of the conference calls.
Fill Emotional Needs
The original veterans that founded EE were enlisted Marines who served in Iraq.  These veterans are not of the make-up of 9 to 5 employees.  Many are also suffering from the effects of their military service. To support these veterans EE is creating opportunities that fit their emotional needs.  While powerful and capable, many veterans, due to their emotional makeup and service related injuries, may have difficult times functioning in certain daily tasks.  EE thus has created self employment opportunities to work on their good days and take off without guilt on their difficult days.
Military Outreach USA

EE works closely with Military Outreach USA, an all faith based 501(c)(3) organization serving the military community Active Duty, Guard, Reserve and Veterans of all eras and their families to cope with the visible and invisible wounds associated with military service.  The organization works with religious organizations of all faiths to train them to deal with the issues of our veterans and provide needed spiritual support.
Click here for General Mukoyama's Military Outreach radio interview
Click here for link to Military Outreach USA
Vets for Vets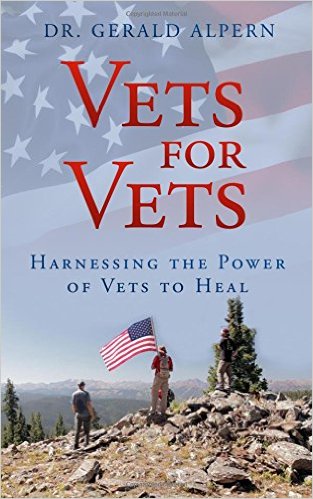 Enabled Enterprises associate, Dr. Gerald Alpern, has written an important new book in support of veterans, Vets For Vets, Harnessing The Power of Vets To Heal.  Gerald (Jerry) Alpern, Ph.D., a Korean War veteran, began treating WWII and Korean military personal as a neuropsychiatric technician at Valley Forge Army Hospital in 1954.  He spent fifteen years as a professor at Indiana University Medical School, where her authored a number of professional books, articles and psychological tests.  Since moving to Aspen in 1975, he has maintained a private psychology practice, which included a multitude of U.S. veterans.
  Click here for link to Vets For Vets
In order to further support our veterans, EE will partner with organizations such as Allen Force, Semper Fi Fund, Huts For Vets, The Intrepid Fallen Heroes Fund, Team Red White and Blue and others that provide emotional support for our American Heroes.
Press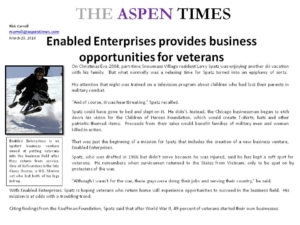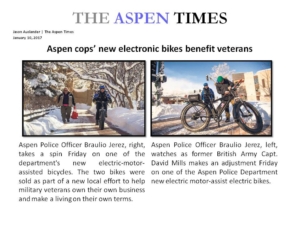 Current Relationships